PRECAST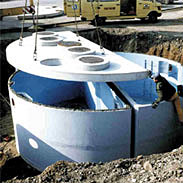 Steel fibres can either work with conventional mesh/bar to give tighter crack control and enhanced durability or they can completely replace mesh/bar to provide concrete elements that are not only easier and faster to construct but offer enhanced performance in terms of durability and impact resistance.
Steel Fibre Reinforced Concrete (SFRC) is ideal for use in precast elements. Steel fibres can eliminate conventional mesh reinforcement, simplifying production, especially in complicated 3-dimensional elements, making production faster and more economical.
Steel fibres also provide reinforcement of the whole element, eliminating brittle cover zones, to provide better crack control, significantly reducing damage due to handling.
Precast applications include:
Rainwater tanks; septic tanks; housing walls; segmental tunnel linings; retaining wall elements; self supporting non-load bearing walls or facade panels; pipes; burial vaults; transportable buildings; manholes, inspection chambers; the list just goes on and on, only being limited by the imagination of the precaster.