Where's all the structural reinforcing?….It's in the concrete..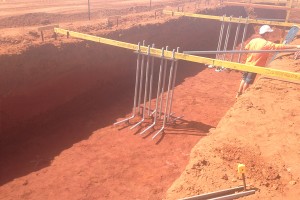 How can steel fibres replace steel bars in foundations?
Dramix 5D steel fibre reinforced concrete (SFRC) provides enough capacity to the cracked section to induce strain hardening behaviour in flexure. This means the moment capacity of the section after cracking is greater than the moment when cracking first occurs, enabling Dramix 5D solutions to be used as structural reinforcement in either fibre only solutions or in combination with conventional steel.
The steel fibres we use in structural foundations are unique. Dramix 5D are steel fibres intended for structural use and conforms to the requirements of System 1 of EN14889-1 and Class A of ISO 13270 Steel fibres for concrete.
Why would you use SFRC to replace or reduce conventional reinforcing?
Two words – speed & cost. For the majority of projects using Dramix 5D steel fibre reinforced concrete to reduce or replace the conventional reinforcing in foundations is significantly quicker and a more cost-effective option than the conventional steel bar or mesh.
Click here for further case studies and find out more about replacing conventional bar reinforcing with Dramix 5D Structural Steel Fibre.
Contact your local #BOSFA  Manger for more information or to organise a technical presentation.