TUNNELING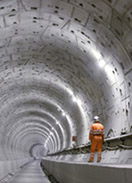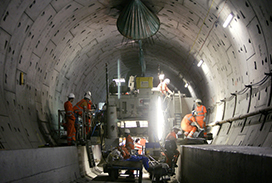 Dramix® Steel fibres are commonly used in both dry and wet sprayed concrete to replace the traditional and complicated 1 or 2 layers of mesh reinforcement, thereby providing substantial technical, economical and safety benefit for shotcrete.
DRAMIX® can be used in:
Fibre reinforced shotcrete for use in both temporary & final linings
Precast tunnel segments for use with TBMs
Cast in situ linings Track Slabs
Inverts Cable and Water Ducts
Border Elements Pavements
Kerbs
They can also be used in cast or precast applications either in combination with, or to completely replace mesh/bar, to provide concrete elements that are not only easier and faster to construct but offer enhanced performance in terms of load carrying capacity, impact resistance, durability and fatigue performance.
BOSFA are your global partner for smart reinforcement of your tunneling and mining project. We have a team of technical experts available, especially dedicated to the underground construction world.
We offer you a full service: technical guidance, project feasibility, reliable delivery, on-site assistance, customized equipment and consistent flow of high-quality products.